This is the first post in my new feature called Second Opinion. Check out the full explanation at
http://terrijhaynes.blogspot.com/2010/03/new-feature-second-opinion.html
Featured Book:
The Promise of Morning
by Ann Shorey.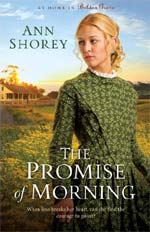 Synopsis: Ellie Craig grieves the loss of three infant children, and when long-hidden secrets are brought to light, she must find a way to contact the family of her long-lost father. Meanwhile her husband, Matthew, faces controversy in his church and competition from a new arrival in Beldon Grove, who claims to be both a minister and the son of the town's founder. Will Matthew find the courage to reclaim his church? And will his unexpected travel companion help Ellie's heart mend?The Promise of Morning addresses themes of overcoming tragedy, finding strength to meet daunting challenges, and trusting your heart to love again.
Here is how Second Opinion works:
Enter by posting a comment on my blog if you're interested in reading this featured book
I pick a winner one week later and send him or her the featured book
The winner must agree to email me a review of the book to be posted on my blog
Check back the first Friday of each month for a chance to win
Enter now and check back next week for the winner.