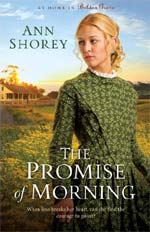 Title: The Promise of Morning
Author: Ann Shorey
Rating:
Wall Target Practice
Synopsis: Ellie Craig grieves the loss of three infant children, and when long-hidden secrets are brought to light, she must find a way to contact the family of her long-lost father. Meanwhile her husband, Matthew, faces controversy in his church and competition from a new arrival in Beldon Grove, who claims to be both a minister and the son of the town's founder. Will Matthew find the courage to reclaim his church? And will his unexpected travel companion help Ellie's heart mend?
The Promise of Morning addresses themes of overcoming tragedy, finding strength to meet daunting challenges, and trusting your heart to love again.
Right from the start, I had issues with feeling that the characters' actions were completely unbelievable. Matthew's position against traveling actors seemed unreasonable even with an explanation of why. I found myself disliking Matthew because of his narrow-minded stance. And being his opinion of traveling actors was a major point on his plot line, I found myself not caring about him.

Ellie didn't fare too much better. I thought she was too overprotective. Even with being a mother of three, I found myself having a hard time connecting with her. I also had a hard time believing in her maternal instinct when she treated her living children like they didn't matter. If she wanted to be a mother, she had other children who she could pour her love on.

The plot felt scattered and I found myself skimming large sections. I didn't feel like the story built up to a climax. The novel read like a series of unconnected events with a happy ending. Also, Matthew and Ellie's martial problems seemed a little soap oparah-ish. There were several times that the tension between them could be resolved with a good conversation. The tension between them was, and I hate to keep using this word, unbelievable. Good tension comes from conflict in goals and motivations, not because two people jump to unsupported conclusions and don't talk.

This book was challenging to finish.