This year I'm doing something that I haven't done before: Christmas knitting. I've never given knitted projects for Christmas gifts before. Not that I'm doing that much. Right now it's looking like I'll only be making one or two projects.
Christmas is such a hectic season for me that I rarely have time for knitting, much less knitting Christmas gifts. This year, however, is a little different. My husband's deployment had really shifted my thinking about Christmas. Actually it's shifted my thinking about just about everything. It has taught me to plan ahead, which got me thinking about Christmas earlier than I normally do.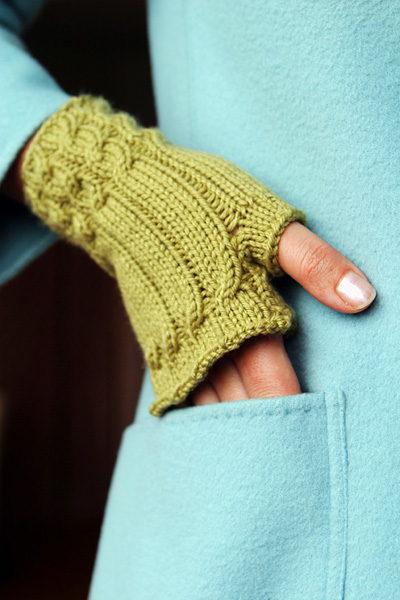 Fetching Fingerless Gloves
I'm almost finished my first Christmas gift, which I can't say because the recipient might read this blog. All I can say is I love the yarn I'm working on and the project is perfect for the person I'm making it for. I was thinking about knitting some Christmas stockings for the house, but that means I would have to buy more yarn…maybe.
My next batch of holiday knitting is for my church. The women's ministry is sponsoring a silent auction. I really enjoy knitting for causes. When I heard about the silent auction, I immediately started planning my projects. Besides, the ladies at the church are constantly commenting on the scarves I've knitting for myself. Now they'll have a chance to own something themselves
Pinkerton Shawl
The first contribution to the silent auction is
Fetching
, a pair of fingerless gloves. It's a pattern from
Knitty
that several of the ladies in my knitting group have made. They are extra cute and shouldn't take me long to make. I'll be making them out of
Stonehedge Fiber Mill's Shepard's Wool
. I don't anticipate it taking me more than a weekend to finish them. My second contribution to the silent auction will be a Pinkerton Shawl from I
nterweave Knits Spring 2011
. I'll be using
Lorna's Laces Shepard Sock Multi
(Gold Hill). I'll try to remember to post pictures of my progress. Depending on how fast these projects go, I may throw a cowl into the mix.
What are you holiday plans? Do they include any crafting?